Chinese help for Argentina disarrayed Antarctic season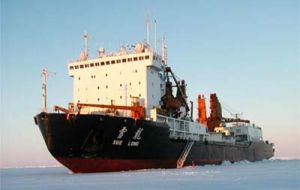 China has come to the rescue of Argentina's Antarctic effort with the icebreaker Xuelong (Snow Dragon) scheduled to call in Buenos Aires next January 25 and load 200 cubic meters of general cargo for Argentine bases.
Since the Argentine icebreaker Almirante Irizar caught fire at the end of last year's season when returning home, Argentina's Antarctic operations have been severely limited with logistic bottlenecks and energy rationing in some of the more extreme southern bases. An icebreaker from Russia has been chartered for a few weeks but still has to arrive. In the meantime several countries have offered to help, the last of which China that is re routing the Xuelong so it can call in Buenos Aires. It must be said also that Beijing is interested in becoming a supplier of weapons, radar and other equipments to Argentina. The Xuelong left Shanghai earlier this month and is carrying 200 workers from the Railways Engineering Department to expand Chinese settlements in Antarctica. China first moved into Antarctica in 1984. This Antarctic season 2007/08 Argentina has been managing with two small support vessels Canal Beagle and Suboficial Castillo, and a couple of Hercules C130. However the vessels are not prepared for navigating in ice infested waters and have suffered several breakdowns and operations have been delayed. According to Argentine press reports one of them is currently in Ushuaia undergoing repairs and the second is anchored off Chile's President Frei base waiting for spares. Argentina has several bases and stations that need supplying, Esperanza, Teniente Jubany, Orcadas, Primavera, Teniente Cámara, Petrel, Melchior, Almirante Brown and Teniente Matienzo plus Vicecomodoro Marambio close to the South Pole. The two Argentine Hercules and two Bell 212 helicopters have been working round the clock but are limited by weather conditions. Anyhow the situation has incoming and outgoing Argentine scientists and personnel stranded waiting to be transported and Marambio, which is rationing fuel and needs an inventory of a million liters for the coming winter, had to be air supplied three times so far. The chartered Russian icebreaker Golovning with the much wanted fuel is expected sometime in February.