Record visitors to Torres del Paine park in south Chile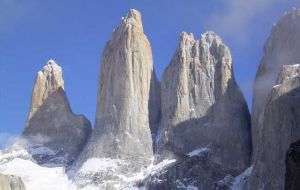 Visitors to Chile's world famous Torres del Paine national park in Patagonia reached a new record in 2007 and in the current summer season an average of over a thousand tourists cross the park's checkpoints daily.
Park manager Jose Linnebrink said 128.402 people visited Torres del Paine last year, up 12.3% from the 114.373 of 2006, with foreigners making the greatest contribution, 95.253 (89.091 in 2006) while Chilean visitors jumped 31% from 25.282 in 2006 to 33.149 last year. The largest components of foreign visitors came from the United States, Germany, Spain, Israel, Italy, Brazil and Argentina. Linnerbrink said that the park visitors' numbers have increased an average 6% during the last decades, but 2007 marked an exceptional rise, 12%, which can be attributed to the fact "Torres del Paine is becoming larger in the world map and visitors take back the message of the pristine wildlife and Chilean hospitality. Obviously I must also mention the efficient PR displayed by tourist operators who sell the park globally". "The average number of visitors is approximately 700 daily, although that is relative because since early January we have had over a thousand going through the checkpoints", said Linnerbrink. He also revealed that 50% of visitors are "in transit tourists" which means they spend the day in Torres del Paine and then move on, while the other half take advantage of the facilities either to camp or lodge. The park has a staff of 55 from Chile's Forestry Corporation, Conaf, who help tourists by monitoring paths, offering information, doing maintenance and administrative jobs, plus another brigade of 20 who are responsible for fires or/and emergency and are located inside the park. The road system inside the park is reasonably well kept for all type of vehicles but narrow and sinuous so motorists are instructed to drive at low speed and with great precaution. Mountain paths for climbers have been improved and in summer months are easily accessible. But trekkers are asked to respect the park's rules thus avoiding accidents and possible fires that could endanger the wildlife. Torres del Paine park statistics which begun in 1976 show that the number of visitors then totaled 5.143, of which 2.943 Chileans and the rest foreigners. However by 1985 visitor numbers rose to 6.850, of which 2.464 foreigners and in 1987 had soared to 12.054. Since then growth has been sustained reaching 71.092 in 2000; 75.598 in 2001; 76.284 in 2002; 86.467 in 2003; 98.065 in 2004; 106.767 in 2005; 114.373 in 2006 and 128.402 in 2007.