Falklands waiting for majestic QE2 on her final world cruise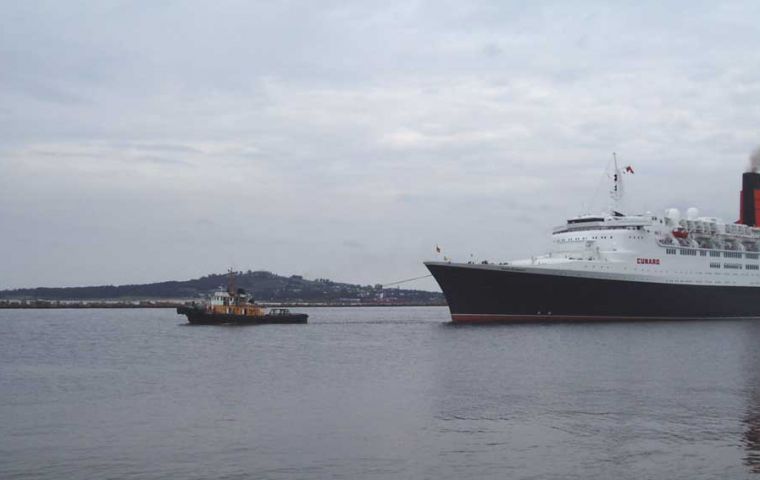 The world-famous Queen Elizabeth 2 passenger liner on her final world cruise left Montevideo on Wednesday and is expected to call in the Falkland Islands on Friday. It was her tenth and last call to Montevideo.
With 1.800 passengers she arrived on Tuesday from Rio do Janeiro and spent 36 hours in Montevideo where visitors took advantage of the excellent weather to make tours, go shopping and enjoy the excellent Uruguayan beef cuisine. The forty year old QE2 transatlantic is scheduled to be decommissioned at the end of the year and turned into a floating hotel in Dubai. The former flagship of the Cunard line QE2 has broken records, transported troops (during the Falkland Islands conflict) and hosted royalty. She has been replaced on her regular transatlantic crossings by the new 600 million US dollars Queen Victoria named last December. QE2 was bought by Dubai for 100 million US dollars in 2007 and will be turned into a hotel off the Gulf emirate's man-made islands in 2009. The 70,000-ton and 293 meters long vessel is still one of the largest passenger ships afloat, with a top speed of 32.5 knots, and can carry 1,900 passengers and a crew of 1,015. Built at the John Brown shipyard on the Clyde in Scotland, she was officially launched by the Queen in September 1967. The majestic vessel boasts five restaurants and two cafés, three swimming pools, a pub, night club and several bars, a 481 seat cinema plus, 6,000-book library, casino, shopping promenade with a branch of Harrods's, health club, beauty salon, hospital and computer learning center. In Dubai she will be refurbished and adapted for her new home: a specially-constructed pier at The Palm Jumeirah, the world's largest man-made island, to create a luxury floating hotel, retail and entertainment destination. QE2 has been the longest-serving ship in Cunard's 168-year history, and was their longest-serving flagship. Since she came into service in 1969, she has undertaken 25 world cruises, has crossed the Atlantic more than 800 times and has carried more than 2.5 million passengers.