UN: More effective strategies to prevent global conflicts.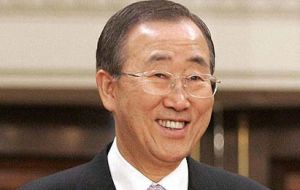 Despite a wide range of tools available to the United Nations in the areas of preventive diplomacy, peacemaking and peace building, a new United Nations calls for measures to boost the world body's capacity to prevent conflicts.
Citing a "considerable gap" between rhetoric surrounding prevention and the use of measures towards that end, Secretary-General Ban Ki-moon states that "the overriding challenge for the international community remains the development of more effective strategies for preventing conflict." In his latest report on conflict prevention, particularly in Africa, Mr. Ban notes that the cost of armed conflict on the continent is equal to or greater than the amount of money it receives in international aid. "Had that money not been lost as a result of armed conflict, it could have been used to address Africa's growing development and humanitarian needs," he points out. The Secretary-General believes the key priority is to further enhance the UN's work in the area of conflict prevention, and has unveiled plans to strengthen the capacity of the Secretariat, especially the Department of Political Affairs. The report proposes to strengthen the Organization's regional field presence in support of prevention, particularly in Africa. While effective preventive action requires substantial human and financial resources, peacekeeping or peace enforcement costs much more, he notes, adding "we must therefore move from declarations of intent to concrete actions to ensure that preventive diplomacy becomes more effective." He notes that the UN is already bolstering its partnerships with Member States and regional organizations to develop their conflict prevention capacities, as evidenced by the world body's close cooperation with the African Union on several prevention, peacekeeping and peacemaking initiatives. Noting the under representation of women at the formal stages of conflict prevention, Mr. Ban stresses the need for the UN to make an increased effort to support and encourage their full participation in this area. To prevent crises from escalating into armed conflict, Mr. Ban calls on the Security Council to enhance its prevention capacity, including by dispatching timely missions to the field to assess situations on the ground. He also urges the Council to increase the use of its "Arria formula" meetings, whereby non-governmental actors can address the 15-member body outside official sessions, and to work to ensure the "creative and constructive" use of sanctions as a tool for preventing conflicts. Mr. Ban adds that it is only through political settlements that conflicts can be resolved. "If we do not deal with the root causes of conflict – and offer sustainable solutions – we will be left with humanitarian emergencies and peacekeeping operations without end."