Humans' rights: Argentine dirty war trial opens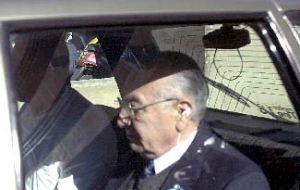 The last army chief from Argentina's dictatorship and five other retired officers went on trial Tuesday for their alleged roles in the illegal detentions and torture of dissidents during military rule.
Cristino Nicolaides, an 80-year-old former general and the head of the army when de facto military rule ended in 1983, was the lead defendant in the trial in northeastern Corrientes province. He did not attend the proceedings for unspecified health reasons, government news agency Telam said. A three-judge panel is trying Nicolaides along with three other former army officers and two ex-members of the military police for their alleged roles in the abduction of five political prisoners who disappeared during the 1976-83 dictatorship. Nicolaides remains under house arrest. Prosecutors said they will call 30 survivors of a former clandestine detention center to the witness stand, while the defense plans to summon at least 50 witnesses, mostly former military officers. It is the first dictatorship-era human rights trial to be held in Corrientes province. Argentina's Supreme Court annulled a pair of 1980s amnesty laws in 2005, clearing the way for former state security agents and their civilian allies to be called into court. A handful of trials have led to convictions but President Cristina Fernandez has urged courts to speed up the trials. Nearly 13,000 people are listed officially as dead or missing from the military era. Human rights groups put the toll closer to 30,000. In a separate trial last December, Nicolaides and seven other former army officers were convicted on a range of charges linked to the kidnapping, torture and disappearance of leftist guerrillas seized by the regime. He received a 25-year prison sentence.