Brazil reported 13 fatal cases of yellow fever in eight weeks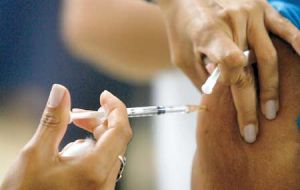 Brazil has reported a total of 48 cases of the mosquito borne yellow fever, 13 of them fatal, since mid December, the World Health Organisation said this week. Three states, Goias, Brasilia and Matto Grosso do Sul concentrate the majority of cases.
Twenty three cases have been laboratory confirmed, the first of which on 17 Dec 2007. Twenty one confirmed cases had never been vaccinated for yellow fever and the other 2 were last vaccinated over 20 years ago, said WHO. WHO says the outbreak of yellow fever follows an epizootic outbreak in monkeys that started in April 2007 and has since spread to 80 Brazilian municipalities. An increase in the number of epizootic events was observed between December 2007 and January 2008, reaching more than 23 new municipalities in that period. Brazil has suspended exports of yellow fever vaccine from Bio-Manguinhos, one of three WHO pre-qualified manufacturers of yellow fever vaccine, based in Brazil, in order to meet the needs of the country to respond to this outbreak. On 18 January, the Brazilian Ministry of Health submitted a request to borrow an additional 4 million doses of vaccine from the global emergency stockpile managed by the International Coordinating Group on Vaccine Provision for Yellow Fever Control (YF-ICG), in order to complete the required levels of yellow fever vaccines stocks held nationally to enable an emergency vaccination campaign. The campaign which targets approx 7 million people, in the most affected states will be carried out in February. Due to the coordinated efforts between the ICG and United Nations Children's Fund (UNICEF) Supply Division, the 4 millions doses arrived in Brazil in early February. The yellow fever emergency stockpile is financed by the GAVI Alliance and managed by the YF-ICG. The YF-ICG is composed of representatives from UNICEF, Médecins sans Frontières (MSF), the International Federation of Red Cross (IFRC), and the World Health Organization, who acts as its secretariat. Meantime neighboring Paraguay has requested international health authorities to supply 600,000 doses of vaccine for yellow fever after the first cases were detected in the country in 34 years. Antonio Barrios, a public health official, said the government had 100,000 vaccine doses but wanted to bolster stocks as a "reserve measure" after five cases of yellow fever had been detected this week in a central farming region. Barrios said the five cases of the mosquito-borne viral disease were found in and around a town in rural San Pedro department some 400 kilometers from the border with Brazil. No deaths from yellow fever have been confirmed in Paraguay, but health officials said it was awaiting pathologists' reports on two people who died recently of unknown causes. Pathologists are working in the laboratory to determine whether they died as a result of yellow fever or as a result of some other ailment," public health minister Oscar Martinez said. The government has announced vaccination plans in and around San Pedro of all those between 1 and 60 years of age. Others were also seeking vaccinations elsewhere at public hospital. Yellow fever is transmitted to human via infected mosquitoes mainly in tropical regions of Africa and South America. Illness ranges in severity from mild to life-threatening. Symptoms of severe infection include fever, chills, headache and vomiting. Potential liver failure causes jaundice - yellowing of the skin and eyes - hence, the name. Mortality rate for severe version of the illness ranges from 15% to more than 50%.