Uruguay denies military alliance with Venezuela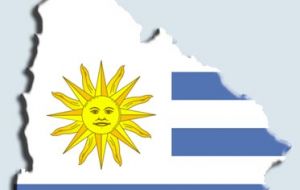 The Uruguayan government told Congress in Montevideo that it has no plans for a military alliance with Venezuela. The question was brought up following revelations that a delegation of Venezuelan military and scientists would be traveling in a Uruguayan navy vessel to Antarctica later this month.
Deputy Defence Minister Jorge Bayardi was summoned this week to a Congressional committee to inform about a party of five Venezuelan military officers and eleven scientists that will be heading for Uruguay's Antarctic base General Artigas on February 16 on board the Navy vessel Oyarvide. Members of the opposition accused the administration of President Tabare Vazquez of moving towards a closer military alliance with Venezuela by allowing such a mission to take place as part of Uruguay's Antarctic effort. "It's not under consideration and the government's position is that we will not advance in any form of military alliance (with Venezuela) which is not sustained on significant degrees of political integration and alliance, and eventually supra-national integration", said Bayardi before the Defence Committee. He insisted that such a hypothesis "has not been considered" by the government. However Bayardi did state that Uruguay will provide Venezuela with all the necessary knowledge and background as to be able to participate in the Antarctic Treaty as a consulting member. The commander of the Uruguayan Navy fleet Rear Admiral Hugo Viglietti told members of the committee that the Venezuelan scientists would be working with their Uruguayan counterparts in several projects on marine life, isobaths and bathymetry (underwater topography). R/A Viglietti said the Oyarbide together with the Vanguardia originally from Eastern Germany have reinforced hulls for navigation in ice waters, similar to winter conditions in the Baltic Sea, and are appropriate for Antarctic cruises. "The Uruguayan navy has been in Antarctic waters for decades so they have the know-how and practical experience plus the fact that on this occasion we have better scientific equipment supplied and/or financed by the Venezuelan government", added Bayardi. According to the official Uruguayan government Gazette, the Executive requested authorization from Congress to send the Oyarvide as part of this year's Antarctic season with the purpose of capacitating Venezuelan military personnel on Antarctic waters navigation. The request underlines that the whole operation is financed by the Venezuelan government. But not all opposition members of the Defence committee were critical of the Uruguayan government initiative to assist and support Venezuela's Antarctic efforts. "For the mere fact that (President) Chavez happens to be in Venezuela I'm not going to vote against the authorization motion. We're doing with the Venezuelans the same thing the Chileans, Argentines, British did with us many years ago, which was good for our Navy then and is good for our Navy now. This is something institutional and I support the authorization", said opposition hardliner Deputy Daniel García Pintos. The Uruguayan opposition is concerned over the growing close links with Venezuela particularly regarding alleged military affairs. The money strapped Uruguayan Navy was recently involved in an operation to transport ammunition and weapons allegedly manufactured by Iran or for Iran, --strictly banned under the latest United Nations resolutions-- from Venezuelan ports. Latinamerican countries overall are increasingly worried about President Chavez links with Iran (and Israel's wrath), his arms shopping for the Venezuelan military as well as his undeniable support for the Colombian cocaine financed insurgency, FARC armed groups.