Rainfall brings Paraguay closer to record soybean crop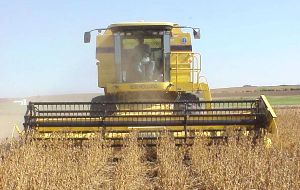 Farmers in Paraguay, the world's fourth-largest soybean exporter, improved their chances of a record harvest after abundant rainfall aided crops in the first half of the growing season, said the Paraguayan Chamber of Cereals and Oilseeds Exporters, CAPECO.
"We have very good expectations about this year's harvest; it could rise to 6.5 million tons" said Luis Enrique Cubillas, CAPECO agricultural advisor in an interview with the Paraguayan media. Paraguay's previous crop totaled 5.86 million tons of soybeans. However Cubilla warned that this year's harvest could be exposed to Asian rust, a fungus that can cut yields in untreated cultivations. La Niña, a weather pattern caused by cooler-than-normal temperatures in the equatorial Pacific Ocean, has brought heavy rains to Paraguay and northern Argentina, increasing soil moisture and potentially improving yields, according to the Buenos Aires Cereals Exchange. Paraguay's soybean exports last year trailed only the United States, Brazil and Argentina. However this year soybean crops in Argentina and southern Brazil are suffering dry, hot conditions that may reduce yields, driving up prices. Paraguay's soybean production rose to a record in the previous crop year, Capeco estimates, as farmers sowed more land to take advantage of rising prices. Soybean futures jumped 78% on the Chicago Board of Trade in the past year. Paraguayan farmers planted soybeans on about 2.4 million hectares in this coming crop compared with 2.2 million hectares a year earlier, Capeco estimates. Most of Paraguay's soybeans are grown in the southeast, near Argentina and Brazil, and are shipped down the Parana River to plants in Argentina that process the crops into vegetable oil and animal feed, mostly in the port of Rosario.