First fatal victim of yellow fever in urban Paraguay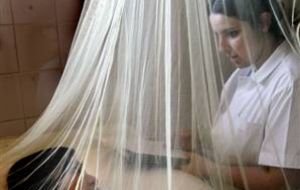 A 17 year old allegedly is the first fatal victim of a yellow fever outbreak in Paraguay, a disease which reappeared after 34 years, according to the country's sanitary authorities. However controversy has emerged following a press report saying that the death toll caused by the mosquito transmitted disease is seven.
Asuncion's main daily ABC published that the cause of the seven deaths is the Aedes albapictus in rural areas and the Aedes agypti in urban areas, but the government only admits one death. The other six are undergoing lab tests. Another six suspect cases have been detected in north Paraguay of which five have all the symptoms. The situation is further complicated because of the mosquito transmitted dengue fever, which is almost endemic in the country; sanitary authorities admit two confirmed cases and 689 suspects. Doctor Felix Ayala head of the government Tropical Diseases hospital in Asunción said that the young man who died in the periphery of the Paraguayan capital on Sunday night was diagnosed as "fulminating hepatitis". However "all symptoms effectively indicate yellow fever", he admitted. But Ayala nevertheless pointed out that the disease is new for Paraguay "since it's back after 34 years, and we therefore need international certification of the death causes for which lab tests are in process. These will then be sent to Brazilian experts and the Pan-American Health Organization". He added that Paraguay "must not ignore the Brazilian experience in the treatment of yellow fever since they are experts and some of the disease symptoms can lead to confusion". Symptoms include nausea, high fever, liver pain, kidney insufficiency and the skin turns jaundice because of an excess of bilirubin. Deputy Health minister Antonio Barros said that "we have a million vaccine doses donated by Brazil and Peru, and in the coming hours we'll have an additional 100.000 sent by Venezuelan president Hugo Chavez". However these vaccines are not for the general public but "for risk areas and 300.000 doses to the border areas with Brazil and Argentina". In the north of the country Paraguay shares 1.300 kilometers of open border with Brazil, an area with virtually no customs, police or military controls. Brazil is also suffering from an outbreak of yellow fever in rural areas and dengue, in its two forms, common and hemorrhagic, which can be lethal, is endemic.