Argentina plans LNG import by sea to face winter shortage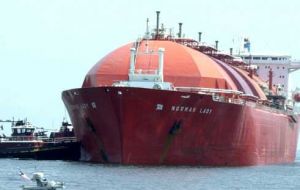 Argentina is planning to import, by sea, liquid gas, LNG, in the coming months in an effort to anticipate and contain a repeat of past winters shortages, reports the Friday edition of the Buenos Aires press.
According to Clarin which quotes government sources Repsol-YPF will contract a special vessel for the daily provision of 8 million cubic meters of LNG to the Buenos Aires metropolitan web. However the imported LNG will cost double what Argentina pays for Bolivian gas. Bolivia warned its energy guzzling neighbors, Argentina and Brazil that she was unable to comply with signed provision contracts because of lack of sufficient investments, following President Evo Morales' decision to take over the oil and gas industry. A second vessel would convert LNG into methane gas for residential consumption. According to Clarín the import cost plus the re-gasification of LNG will be between 12 and 14 US dollars per million BTU (British Thermal Unit). Argentina currently pays 6.97 US dollars for Bolivian gas which will increase to 7.8 US dollars next April. The difference in price could be absorbed by the petrochemical corporations benefiting from the gas imports, "said official sources to Clarin". "They produce to export and could absorb greater costs", added the sources. Repsol-YPF according to Clarin refused to comment on the issue. Only a week ago the presidents of Argentina, Brazil and Bolivia met in Buenos Aires to try and find a way out to the growing shortage of energy, normally in winter months, but which was also felt this summer in Buenos Aires. The summit only confirmed the obvious, Bolivia is behind provision schedule because of lack of needed investments and Brazil and Argentina can't spare a single cubic meter of the precious gas needed to generate electricity, particularly for Brazil's industrial hub Sao Paulo.