US nuclear carrier in exercise with Brazil and Argentine navies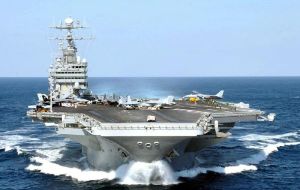 Nuclear aircraft carrier USS George Washington, one of the world's most impressive man-o-war and three other US Navy units will be participating in joint exercises with the navies from Brazil and Argentina along the coast of Rio do Janeiro, reports Correio Braziliense Friday edition.
The leading newspaper from the capital Brasilia says the exercise will begin next April 22 and will last for two weeks in the framework of the 49th edition of the Unitas joint naval exercises the US Navy has been involved with its Latinamerican counterparts since 1959. These annual naval events which were displayed under the Inter-American Reciprocal Assistance Treaty or TIAR ran out of encouragement following the 1982 South Atlantic conflict when United States openly supported politically, diplomatically and militarily its main NATO ally the United Kingdom over Argentina. Argentine forces were defeated and ousted from the Falkland Islands by a British Task Force in June 1982. According to Correio Braziliense with time several countries which traditionally participated in the joint naval operations begun dropping out, such was the case of Chile, Colombia, Peru, Ecuador, Venezuela and the latest Uruguay, arguing the exercises were "outdated". Therefore this next edition of Unitas, according to the Brazilian daily, will be limited to Brazil, Argentina and the US. Brazil will be participating with eight surface vessels and a submarine and Argentina with three surface vessels and one submarine that are expected in Rio do Janeiro early April. USS George Washington is a sea fortress 333 meters long, 78 wide and has a tonnage of 93.000. Its current crew is 6.300 and it carries 80 fighter planes plus support craft. The mighty nuclear powered carrier has been involved in operations in the Mediterranean, Persian Gulf and played a key role in the first Iraq war in 1990. The Brazilian media underlines the fact that a nuclear carrier is coming is a clear idea of the significance these (Unitas) exercises have for the US Navy plus the need to promote close links with the navies of two countries that have a predominant presence in the Atlantic ocean, from the Caribbean to the extreme south.