Argentine minister denies Cristina-Nestor "dual command"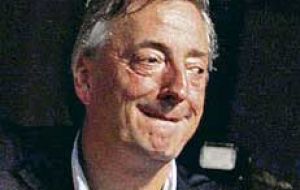 Argentine Justice Minister Aníbal Fernández has denied there is a "dual command" governing the country and said that President Cristina Fernández is the one in charge, not her husband, former President Néstor Kirchner.
"No decision is made if it's not by her choice," said the Minister, who also denied that government officials consult the former President. Fernández said he talks with Néstor Kirchner "several times a week, regarding personal and (Peronist) party issues," but "he never gave me instructions or tried to influence certain policies." While talking to a local Buenos Aires radio, Fernández said that "it is strange that they say those things about the dual command... saying that, is not understanding anything". The minister added that now, Kirchner is "the number one in bringing ideas" just as "Cristina was the number one in bringing ideas when Néstor was President." When asked about the polls that show that the President's positive image is dropping, Fernández said that is not what the survey results show, but he did not specify any particular pollsters to "avoid promoting them". Argentine political analysts have written profusely that former president Kirchner has been participating in virtually all government decisions and since the farm conflict started in early March he leads an aggressive damage control task force determined to make sure his wife, President Cristina Fernandez and her public opinion standing, does not continue to deteriorate. The former president even moved from his brand new offices in Puerto Madero to the official presidential residence in Olivos.