Uruguay anticipates commodities export boom to continue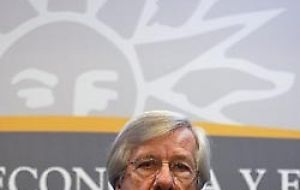 Uruguay's Economy minister Danilo Astori said there's no indication forecasting "the fall of Uruguayan exports international prices" in the framework of the current global surge of commodity prices.
However Astori admitted that the country has an inflation problem but he underlined that Uruguay is the Latinamerican country "which most suffers the inflationary impact of the world food prices, because of the domestic composition of prices". Uruguay is a leading exporter of beef, wheat, barley, rice, soy, hides, textiles and a net importer of energy. Astori said that domestic prices "have nothing to do with the essence of Uruguay's production expansion in the last three years", which has increased 23% in real volume terms "free of all inflationary effects". The Economy minister who has been tipped as the ruling coalition's presidential candidate in 2009 said that the "price effect played a significant stimulus role" for farmers to improve efficiency conditions, but was not the determining factor. Regarding containing food prices in Uruguay, Astori said that the government is applying a double prong, on the one side fiscal, cutting a significant or entirely VAT (22% in Uruguay) or opening the market to overseas imports free of tariffs. Such is the case with poultry and in the near future with fresh fruit and vegetables. Nevertheless he admitted that so far the approach has to prove effective since "we haven't been successful in obtaining competitive prices overseas, although that tends to happen". But Astori said that the current energy situation which Uruguay is suffering is a more immediate challenge and the "main risk factor" for the economy because of the extreme rainfall deficit. In a normal year Uruguay's electricity is totally hydro (and even with surplus to export) but lack of rains and forecasted adverse climatic conditions has become a threat. Uruguay had anticipated an exceptional expenditure of 280 million US dollars this year to buy fuel for thermal electricity generating plants, but at the end of the first quarter the sum is down to a third because of higher oil prices and increased energy demand. According to FAO, United Nations Food and Agriculture Organization between in the last twelve months to March 2008, wheat price has soared 130%; rice 74%; soy beans 87% and corn 53%. In related news Uruguayan president Tabare Vazquez requested Mr. Astori to remain in his post for another three months, sufficient time to defend the national budget in Congress, and to wait on a definitive Supreme Court ruling which would exempt old age pensioners from paying income tax. According to the President Vazquez administration one of Astori's great achievements was reforming the tax system substituting most indirect and consumer taxes with universal income tax. However pensioners appealed and the first rulings favor the petition. Mr. Astori was expected to leave the cabinet at the end of April and return to the Senate to begin preparing his bid for the ruling coalition presidential candidacy. Uruguay's national elections are scheduled for October 2009. President Vazquez has praised hopeful Astori stating that "he clearly has the conditions to be president".