Argentina's growth rate lowered to 5,5% and 2% in 08 and 09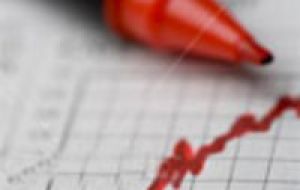 London based Barclays Capital lowered its 2008 and 2009 growth forecast for Argentina following on increasing concerns about accelerating inflation, striking farmers blocking exports and slowing investment.
Barclays estimates Argentina's economy will grow 5.5% in 2008 and 2% in 2009. The official Argentine government estimates are 7% and 4%. A three-month strike by Argentine farmers protesting export taxes on grains and oilseeds has prompted road blockages, food shortages and the biggest anti-government demonstrations since 2001, eroding support for President Cristina Fernandez de Kirchner six months old administration. According to the Torcuato Di Tella University index, confidence in Mrs. Kirchner's administration is at its lowest since taking office last December. Similarly the government's positive rating dropped to 17%, 11 percentage points down from April. Inflation has become a major challenge with expectations for 2008 reaching 30%. The government only consents to one digit inflation, particularly since January 2007 when technical staff from the country's Statistics and Census Office, Indec, was replaced by political appointments faithful to the Kirchner administration. The changes were described as an "improvement in operations". Standard & Poor's revised its credit rating outlook on Argentina to negative from stable April 25, one day after the Economy Minister Martin Lousteau resigned. Lousteau, 36, was instrumental in proposing the controversial hike in grain and oil seed exports' levies which triggered the farmers' conflict plus implicitly admitting the inflation problem when he presented the president with a plan to combat the increase in consumer prices. Furthermore according to United Nations economic office for Latinamerica direct investment in Argentina rose 14% to 5.7 billion US dollars in 2007, below the 46% increase for Latin America and the Caribbean and less than one-sixth the growth in neighboring Chile and Brazil. Finally Argentina which is among the world's leading exporters of corn, soy beans, wheat and beef, relies on agriculture for more than half of its export earnings. The three months farmers' strike is beginning to take its toll on exports.