Malvinas war: more abuse claims against Argentine military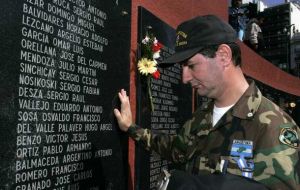 Buenos Aires City ombudsman Alicia Pierini and Juan Cabandié head of the Human Rights Commission of the city's elected council have opened a registry for claims of human rights violations committed during the 1982 Malvinas war.

The main purpose of the registry is to collect and systemize all presentations related to illegal imprisonments and all sort of abuses the Argentine Armed Forces officers' corps could have committed against the rank and file during the three months South Atlantic armed conflict with the United Kingdom over the possession of the Falklands. The claims and accusations will be addressed to the Federal Court in Rio Grande which has jurisdiction over the alleged abuses committed in the Falklands/Malvinas. "The registry will help to re-ignite testimonies, both for history and for their presentation in court", said ombudsman Pierini. "The Argentine Armed Forces treated the young conscripts (during the conflict) in the same way they acted as a dictatorial government against the citizens on the continent: illegitimate imprisonment, tortures, abuses and death", she added Council member Cabandié, son of a disappeared couple during the last Argentine dictatorship and currently president of the Human Rights Commission said it was "the responsibility of democracy's institutions to search for the truth and justice". Malvinas combatants "were also victims of the last military dictatorship", he added. Other Argentine provinces have also been collecting claims and related data on the excesses committed by Argentine military officers during the war. The list included Corrientes, Chaco, Chubut, Santa Cruz and Tierra del Fuego At the official launching of the registry some Malvinas veterans were also present and talked about their own experiences. Veteran Roberto Lacase said he has testimonies of "tortured soldiers, sham firings squads and even killings committed by superiors", but now "we have the legal support and certainty to make the claims and add them to all the information collected along these years". The first official claim was presented in 2007 before a Tierra del Fuego federal court by provincial government of Corrientes based on reports from the local Human Rights Commission and the Corrientes Malvinas Veterans organization which managed to collect serious and incriminating evidence from the testimonies of 23 former conscripts who participated in the war. The Corrientes province claim presented before the federal court claims one soldier was killed, four died of hunger, and another ten were staked to the ground and several others tortured by officers.