US food price hikes "pale" in comparison to energy prices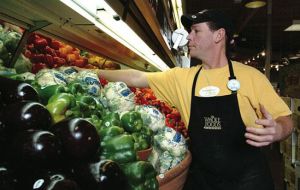 In United States as in the rest of world, consumers have suffered the impact on rising food and fuel prices of adverse climate, larger global demand and roaring speculation. But even so on average, US consumers still spend 10% of their income on food, which is possibly the lowest in the world according to the latest surveys from the American Farm Bureau Federation, AFBF.
One in particular from May showed much of the increase occurred during the second quarter, when the cost of 16 grocery items -- including apples, pork chops and oat cereal -- was 46.67 US dollars, up about 3.5%, or 1.64, from the first quarter. "Prices of many food items continue to creep upward" said AFBF economist Jim Sartwelle who added that "those increases, however, pale in comparison to the huge increases in energy costs -- for fuel, natural gas, and electricity -- that US families have become accustomed to over the past two or three years". Food prices rose for 14 of the 16 items, with much of the increase fueled by tight supplies of grains and oilseeds worldwide. Cooking oil and bacon showed the largest retail price increases, with a 32-oz. bottle of corn oil up 47 cents at $3.48 and one pound of bacon increasing 22 cents to $3.57. The only items that posted a decrease were a dozen large eggs, down 34 cents at $1.82, and a pound of cheddar cheese, which declined 11 cents to $4.60. The Farm Bureau, which represents livestock and crop producers, said farmers received just under $8.90 of the total $46.67 cost of the basket of products. That was a decline from the first quarter, when farmers got about $10 of the $45 basket. A total of 87 volunteer shoppers in 36 states participated in the latest survey. Higher feed and energy costs are driving up beef and poultry prices at grocery stores across the country, the U.S. Agriculture Department said last month. Food prices will rise by 5% this year, according to USDA, marking the sharpest increase since 1990. AFBF also pointed out that a group of 35 corporate managers from the US agro-business industry delivered a letter to US President George Bush requesting he sponsor a drop in commodities prices during the G-8 meeting in Japan. Corporations such as Coca Cola, Tyson Foods and Pilgrims Pride have also asked for a lower tariff on imported ethanol thus alleviating price pressure on corn, essential for animal feed.