Chavez visit Spain and jokes with King JuanCarlos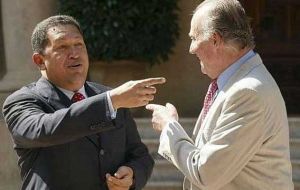 Venezuelan President Hugo Chávez laughed and smiled his way through a hug-and-make-up visit to Spain yesterday, his first since a now-infamous exchange in which Spain's normally reserved monarch told the voluble Venezuelan leader to "shut up" at a summit in Chile last year.
Chávez arrived an hour late for an appointment at the king's summer residence on Mallorca where he was greeted by King Juan Carlos and Foreign Minister Miguel Angel Moratinos â€" and watched by a mass of photographers and TV crews. "Why don't we head for the beach?" Chávez joked with the king. The king smiled, shook hands and welcomed Chávez warmly. After the breakfast meeting, Chávez flew to Madrid for talks with Prime Minister José Luis Rodríguez Zapatero. The two leaders stressed that their relationship was renewed and that any past tension was behind them. Rodríguez Zapatero said there had been a rapprochement between the countries, and highlighted the strong commercial links they share. "We have come to extend the hand of friendship," Chávez said. Chávez invited Spanish conglomerates such as Repsol to invest in new oil exploration projects. Commenting on the recent drop in global oil prices, Chávez said he expected prices eventually to level off at about US$100 a barrel. The Venezuelan leader set the stage for the warm meeting last week, when he told his countrymen in a television address that he was ready to let bygones be bygones â€" but joked that the king ought to know it is not in his nature to sit quietly. "I would very much like to give the king a hug," Chávez said in his weekly show of his Spanish visit. "But you know, Juan Carlos, that I am not going to shut up." Officially, Chávez's trip was billed as an opportunity to discuss bilateral relations â€" but the agenda included plenty of awkward â€" and sometimes funny â€" references to last year's high-level diplomatic dustup. The testy exchange with Juan Carlos occurred at a summit in the Chilean capital, Santiago, in November, when the Venezuelan leader repeatedly referred to former Spanish Prime Minister José María Aznar as a fascist while seated in a panel next to the king and Rodríguez Zapatero.