Obama's trip much better than he could have dared hope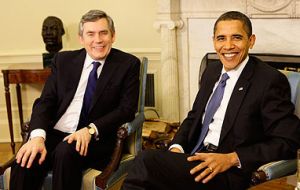 Barack Obama, the US presidential candidate, has ended his overseas tour with a round of meetings in London, visiting Tony Blair, the former prime minister, before going on to talks with Gordon Brown.
Obama's last meeting on Saturday will be with David Cameron, the leader of Britain's main opposition Conservative party, which is riding high in the opinion polls and could win the next general election. Speaking after his meeting with Brown, Obama said: "The PM's [Brown] emphasis, like mine is how we can strengthen the transatlantic relationship to solve problems that can't be solved by any single country individually - climate change, the issue of international terrorism and some of the issues surrounding financial markets now that capital is global". Obama, who faces John McCain, the Republican candidate in the November 4 US election, aims to burnish his foreign policy credentials and counter McCain's criticism that he lacks experience. According to Saturday's British media reports, Brown is facing mounting calls from his Labour party colleagues to resign, after a third crushing by-election defeat in as many months on Thursday. The Independentnewspaper said on Saturday it was a bad time for Brown to meet "arguably the world's most popular politician". Obama's national security adviser, Wendy Morigi, said late on Friday that the Illinois senator had enjoyed his previous discussions with Brown, whom he met in Washington in May with McCain. Talks with Blair and Cameron - whom Obama may have to deal with if Brown goes and he becomes the first African-American US president - will be on "shared challenges" in energy, climate change and the global economy, she said. Obama left France on Friday where he was greeted by hundreds of supporters outside the presidential palace in Paris, before holding talks with Nicolas Sarkozy, the French president. At a joint news conference following their discussions, Obama said Iran should not wait for a new US president to be elected to resolve its dispute with the West over its nuclear programme. He said: "Iran should accept the proposals that President Sarkozy and the EU ... are presenting now. Don't wait for the next president." The comments came after world powers warned Iran has only a fortnight to respond to their latest offer seeking to end a five-year crisis over its nuclear programme, which Tehran claims has peaceful ends, but which others fear masks nuclear. Obama also said his recent trip to Afghanistan had showed him that the US needs to send more troops there and that the world must "finish the job" in defeating the Taliban. He said the US needed to send at least two additional brigades and urged a greater commitment from Nato allies. He said it is "a war we have to win". Sarkozy recently pledged to send more troops to Afghanistan, a decision Obama praised as "courageous". The French president said that there had been a "tremendous convergence" of views in their discussions.