Nuclear powered "Peter the Great" en route to Venezuela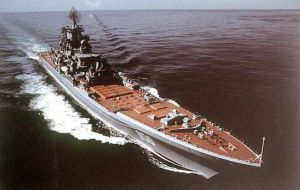 A fleet of Russian warships is heading to Venezuelan waters for joint naval war games in November, the biggest since the end of the Cold War. The fleet left its base at Severomorosk in the Arctic and is headed by a nuclear powered cruiser.
The fleet is made up of "the nuclear-powered guided missile cruiser Pyotr Veliky (Peter the Great), the anti-submarine warship Admiral Chebanenko and other accompanying ships" said Russian Navy spokesman Igor Dygalo. They will have to travel 15.000 nautical miles to reach destination. Last week, two Russian bombers arrived in Venezuela to begin its training flights with their Venezuelan counterparts. Venezuelan President Hugo Chavez has called for increased cooperation with Russia and added Latin America needs to establish a strong relationship with Moscow to reduce the US influence in the region. The naval exercises are seen as a challenge to Washington whose relations with Moscow and Caracas has been strained. Caracas and Moscow have signed arms contracts, and are looking to extend bilateral co-operation on energy. Russian Deputy Prime Minister Igor Sechin, in Caracas last week, said five Russian oil firms were looking to begin operations in Venezuela. Chavez, who will visit Moscow this week, said on Sunday that Latin America needed a strong friendship with Russia to help reduce Washington's influence in the region. Mr Sechin also warned the US not to view Latin America as its own backyard. "It would be wrong to talk about one nation having exclusive rights to this zone". Meanwhile on Monday, Russia and Belarus (another Chavez ally) began its month-long Stability-2008 war games to simulate defense of the region. The war game will "train the deployment of the Russian Armed Forces, combat missions of troops to localize and fight armed conflicts, terrorist activity, natural disasters and man-made catastrophes in order to provide strategic deterrence and security for the Russia-Belarus Union State," said Russian Defense Minister Anatoly Serdyukov.