Uruguay Peso down 2.6% in November against US dollar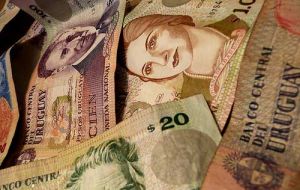 For the fourth week running the US dollar appreciated in Uruguay's money markets having ended last Friday 0.50% higher against the Uruguayan Peso, mainly forced by strong domestic demand and a similar evolution of the greenback in Brazil.
On Friday in banking trading the US dollar closed at 23.751 Pesos, up 2.60% so far in November and 10.21% since the beginning of 2008. During October the Uruguayan peso lost 9.23% to the US dollar. Local Montevideo analysts said that besides the persistent domestic demand the market was influenced by the strong appreciation of the US dollar in Brazil where it ended the week 4.42% higher at 2.271 Real. Before the current global financial crisis the Brazilian currency had reached a record 1.50 Real to the US dollar. Uruguay's country risk during the week advanced 29 points and closed at 687 points. Uruguayan sovereign bonds also slid as international holders are increasingly less willing to keep riskier assets. The tendency was strengthened by the overall drop in commodities' prices which make up most of Uruguay's exports. This week, the incoming Central Bank president Mario Bergara said that "global circumstances" have changed and it was only natural that the US dollar should be seen as a refuge by international investors fearful of what they consider risky assets. However he emphasized that the Uruguayan banking system was strong, "we've learnt the lesson of 2002", and "we have sufficient international reserves". He anticipated the Central bank would continue to intervene in the money market to cushion the ups and downs of currency trading. Bergara refused to reveal how much the Central Bank had invested these last two months to keep the Uruguayan peso from falling faster vis-Ã -vis the US dollar.