Cocaine haul vanishes from Falklands' police station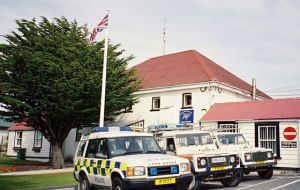 Nearly one million pounds worth of cocaine has been stolen from Stanley Police Station in the Falkland Islands, reported the local government.
Twenty nine packets of cocaine seized by Falkland Islands authorities from the fishing vessel "Ventura" on 30 October 2008 were secured as evidence in a double- locked police cell at Stanley Police Station pending the court hearing. On 25 November a check of the cell revealed that 23 of the packets were missing. According to the official release a search of the premises found evidence of one discarded bag and packaging from some of the missing packets. "Governor Alan Huckle has asked Provost Marshall of the Joint Service Police and Security Unit (JSPSU) at Mount Pleasant Complex to carry out an investigation into the loss. This is now underway", added the report. The 29 packets of cocaine weighing over 30 kilograms were seized from the fishing vessel Ventura while it was moored just outside Stanley Harbour. Two Spanish Citizens, Jesus Caraballo Martinez and Rogelio Curras Pastoriza were arrested and charged with importing a quantity of cocaine without having a licence to do so, issued by the Chief Medical Officer, an offence contrary to section 3 of the Misuse of Drugs Ordinance 1987. Caraballo has pleaded guilty to his involvement in the offence but Curras has pleaded not guilty. Both men are due to appear in Court for a further hearing on 26 November. During police interviews Carballo stated that he and Curras had obtained all twenty nine packages of cocaine when in a brothel in Montevideo, Uruguay. Carballo said that they were being paid twenty thousand Euros to take the packages back to Spain in the "Ventura". Initially all the packages had been placed in Curras's wardrobe but halfway through the fishing season, Carballo became concerned that his partner was using the cocaine and moved it to under his own bunk.