USA: Democrats lost the chance for a 60-seat "supermajority"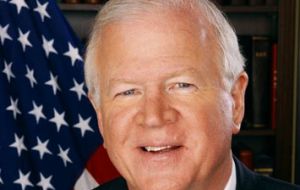 Republican Saxby Chambliss has won a run-off election in Georgia, denying Democrats the chance for a 60-seat "supermajority" in the US senate that would have enabled them to pass legislation virtually at will.Chambliss, the 65-year-old incumbent, defeated Democrat Jim Martin for the seat.
The runoff was necessary after a three-way general election prevented any of the candidates from getting the necessary 50 per cent. Chambliss' slogan on the runoff campaign trail was simple: His re-election was critical to prevent Democrats in Washington from having a blank cheque. His victory came after a month-long campaign that drew political luminaries from both parties to the state and flooded the airwaves with fresh attack ads weeks after campaigns elsewhere had ended. Minnesota - where a recount is under way - now remains the only unresolved senate contest in the country. The Georgia vote gained national significance because Democrats and their independent allies held 58 of the 100 seats in the senate after the November 4 election. Under senate rules, it takes 60 votes to stop a filibuster, a procedure used to block legislation from coming to a vote. With 92 per cent of the precincts reporting, Chambliss captured 58 per cent to Martin's 42 per cent. Martin had cast himself as a champion for the neglected middle class. He also linked himself at every opportunity to Barack Obama and his message of change. But the Democratic president-elect was a no show on the campaign trail in Georgia, although he did record a radio ad and automated phone calls for Martin. Martin was not able to get Obama voters back to the polls in large enough numbers to overcome the Republican advantage in Georgia, which has become an increasingly reliable Republican-leaning state since 2002. Martin called Chambliss to concede before 10pm local time. Chambliss portrayed his win as an encouraging sign for Republicans looking to regroup as they head into the next election cycle. He had angered some conservatives with his vote for the $700bbn bailout of the financial services industry and his early support in 2007 for the guest worker provision in the immigration bill of George Bush, the US president.