Chilean "limited" cabinet reshuffle as election year looms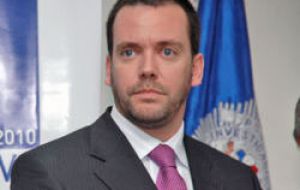 A "limited" cabinet reshuffle is expected this week in Chile following the resignations of Labour minister Osvaldo Andrade and Deputy Interior minister Felipe Harboe, announced Minister of Interior Edmundo Perez Yoma on Wednesday.
"Later in the day we are going to have a better idea of which ministers are leaving and who are staying" said Perez Yoma, "but we are going to wait for all names to be in and the reshuffle will be limited". Chilean ministers or officials in other politically appointed posts have until December 10 to resign if they wish to run for office in next year's general elections. Andrade apparently is interested in running for one of the Senate seats from the Maule Region and Harboe is a Deputy hopeful for the city of Santiago. Harboe has been on the job since January 2006 and was later ratified by then incoming President Michelle Bachelet in March that same year. Deputy Minister of Culture, Arturo Barros also gave up his post Wednesday, and is hopeful he will be running for the Lower House.