Chavez defers for 2012 his "Socialist" constitution proposal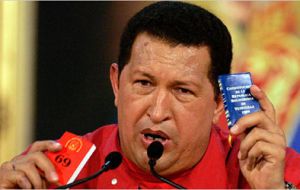 Venezuela's leader Hugo Chavez announced Wednesday that he would promote a constitutional reform in 2012 for the establishment of a Socialist state. He made the announcement during the Air Force Day celebration.
"Get ready because after 2012 we're going to have a reform" said Chavez on a national television and radio broadcast on announcing his commitment to present the "Socialist" constitutional reform which was rejected in a December 2007 referendum. President Chavez said that the reform had to wait until the end of 2012 because current legislation impedes a second consideration of the issue in the same presidential period. "This reform, --yes I know don't tell me--, we can't take to consideration until the next presidential period", he added. Chavez supporters are promoting a referendum to amend the constitution and ensure his unlimited re-election. The National Assembly with a majority of government allies began this week to consider the issue. Opposition groups have rejected the idea of the constitutional amendments arguing that indefinite re-election was one of the proposals rejected in the 2007 referendum and therefore would violate the constitution which specifically bans a repeat of the consideration of an issue in the same presidential period. However Chavez has continued to campaign for the reform and called on the members of the Armed Forces not to let themselves be manipulated by the campaign against the constitutional amendment. "Every soldier must be political", said Chavez on defending Armed Forces members right to vote which was incorporated to the 1999 constitution, with the only exception of openly acting with a political party. Chavez was first elected president on December 1998 and following a constitutional reform process in 2000 was ratified for another six years. In December 2006 he was re-elected for a second period which ends in 2013. The current constitution only contemplates an only immediate re-election.