Economic woes and insecurity underlined in Queen's message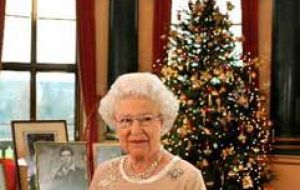 Britain's economic problems and the "insecurity" people are feeling in today's uncertain times were acknowledged by the Queen in her Christmas Day message.
The United Kingdom is experiencing a sharp economic downturn and the monarch described how the festive period would be a "sombre occasion" for many this year. The Queen's recognition of the difficulties some families will face this Christmas was contrasted by her positive words about those who live "unselfish lives" and use their time, skills or money to help others. The December 25 message also included a personal tribute to the Prince of Wales, with the Queen highlighting his achievements and praising the work of her son's charities. Touching footage from a private home movie showing a young Princess Elizabeth with Charles, aged just one, was aired during the broadcast. The 82-year-old sovereign said in her message: "Christmas is a time for celebration, but this year it is a more sombre occasion for many. "Some of those things which could once have been taken for granted suddenly seem less certain and, naturally, give rise to feelings of insecurity. "People are touched by events which have their roots far across the world. Whether it is the global economy or violence in a distant land, the effects can be keenly felt at home." The message began with informal scenes from the day in June when Prince William was invested as the 1,000th Knight of the Garter by the Queen at Windsor Castle. Senior royals wearing their lavish Garter robes were shown in footage coming together to pose for an official photograph.