Lula da Silva choice confirmed as presidential hopeful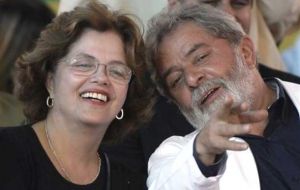 Brazil's ruling Workers Party, (PT) has announced its full support for cabinet chief Dilma Rousseff as candidate for the presidential elections of 2010. PT chairman Ricardo Berzoni made the official statement last Wednesday after meeting with President Lula da Silva in Government House, Planalto.
"We have great love and respect for Dilma, she can be the party's (presidential) candidate for the elections of October 2010", said Berzoni, according to a report from O Estado de Sao Paulo. Berzoni's statement was interpreted as a signal the PT, as with the opposition party PSB (Social-democrats) are preparing for an informal launching of the 2010 campaign. "Democracy inside the PT is guaranteed but the word of the president will have an enormous weight"", added Berzoni. The ruling party will formally nominate its 2010 presidential candidate and "the party does not discard other hopefuls". President Lula da Silva with an 80% public opinion support can't aspire to a third running mandate according to the Brazilian constitution. He has also rejected his ruling party's attempts to introduce a constitutional amendment: "eight years is enough and three running periods is not good for democracy". Last week in a meeting with foreign correspondents Lula da Silva reiterated that Dilma Rousseff, currently cabinet chief "has all the aptitudes to dispute the presidency". Meantime according to the Brazilian press Ms. Rousseff remains in Porto Alegre, south of Brazil, where last Saturday she underwent facial plastic surgery. Brazilian political analysts see this as another clear signal that it is part of Rousseff's image marketing in her bid for the presidency.