Uruguay: consumers must benefit from cheaper commodities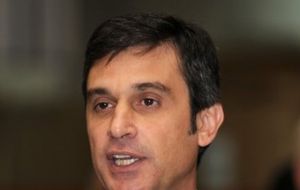 The Uruguayan government will intervene, if necessary, in the domestic market distribution chain to ensure that the full benefit of the falling international prices of commodities effectively reaches the consumer, announced several ministers following the Monday cabinet meeting.
"We've verified that lower international prices have not been transferred at the same rate to the domestic market price level", said Enrique Rubio head of the Budget and Planning Office. He added that the increase in the food basket prices will be closely monitored and "the target of the necessary measures". Rubio said that if necessary the government "will appeal to importing merchandise", and could install a mechanism of distribution monitoring if "we detect hoarding or monopoly, oligopoly or controls which influence negatively markets". "We have been surveying different stores and markets and price differences are significant both in numbers and as percentages", warned Rubio. Economy Minister Alvaro García said it was evident that the drop in commodities prices is worrisome "but even as important the fact that domestic prices are not reflecting them in the local market". He mentioned specifically the grain chain, (wheat and bread), and beef, which have "significant decreases" at international level. The Uruguayan government also announced a 5% savings plan in budget outlays for the purchase of inputs, energy, phones and overseas trips, extensive to all ministries. "This is one of several initiatives to help contain the effects of the global crisis which will begin to be felt in early 2009", said Minister García. However the government spokespersons underlined that salaries and social expenditures in education and health as well as promoting production will not be affected.