Socialist candidate abandons Chilean presidential race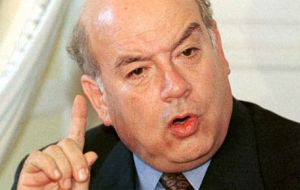 The Organization of American States (OAS) Secretary General Jose Miguel Insulza announced Monday his withdrawal from the Chilean presidential elections scheduled for next December.
The Socialist leader, who has held the main posts in the Chilean cabinet and was considered a forceful candidate for the ruling coalition, apparently declined his candidacy following his poor showings in public opinion polls. On making his announcement Mr. Insulza called on his Socialist party to support former president Christian Democrat Eduardo Frei. "I've declared my decision to remain as OAS Secretary General until the end of my mandate", said Insulza at a press conference in Santiago, adding he has asked the parties of the ruling Concertación not to consider his name as candidate for December elections. "Eduardo Frei is the candidate with the most consensus to lead the country at the beginning of the third century of its independent existence", said Insulza. Christian Democrats and Socialists are the essence of the ruling Concertacion coalition which has been in power since the return of democracy in 1990. The four presidents, Patricio Aylwin, Eduardo Frei, Ricardo Lagos and Michelle Bachelet (two Christian Democrats followed by two Socialists) have led Chile since but almost twenty years in office has taken its toll. More over with the death of former dictator Augusto Pinochet the conservative parties have become a viable alternative, which was evident in the mid term municipal elections of 2007. And several controversial issues have surfaced showing different stands from the Christian Democrats and Socialists. The latest public opinion polls showed that Mr. Insulza would loose to former president Frei (1994/2000) by an ample margin in the planned primaries. Public opinion polls also give conservative Alliance candidate Sebastián Piñera (one of Chile's richest men) a good chance of becoming the next president. When asked about recent events, Mr. Piñera said that the withdrawal of Mr. Insulza was predictable adding that Insulza, Frei and Lagos "is more of the same and the country is asking for a change". "They belong to a Concertacion, which has worn out and does not represent what Chile needs", underlined Piñera. However political analysts anticipate Mr. Piñera will have to attract or work out some understanding with dissenting and disenchanted groups of the ruling coalition, if he wants to ensure the presidential palace in 2010.