PM Gordon Brown to hold US talks with Pte. Barak Obama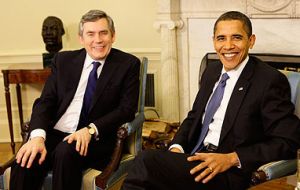 Gordon Brown has won his first coveted meeting with Barack Obama as president of the United States, it was announced.
Downing Street confirmed that the Prime Minister would be going to Washington for talks on March 3. A spokesman said the two leaders would discuss "common global challenges" including the world financial crisis and the situation in Afghanistan. The announcement would appear to mean that Mr Brown has won the race to become the first European leader to visit the new president in Washington. It will come as some relief to British officials who will see it as an indication that the "special relationship" remains intact with the handover to the new administration. French President Nicolas Sarkozy had also reportedly been jockeying for the honour amid speculation that Mr Obama would be looking more to Paris for European leadership. Mr Brown has previously met Mr Obama when he was still a candidate for the presidency, in both Washington and London. The No 10 spokesman said that among the items on the agenda would be the G20 summit in London on April 2 which may well mark Mr Obama's first visit to Europe as president. The White House said in a statement that Britain and the US shared a special partnership and Mr Obama looked forward to working closely with Mr Brown to address common global challenges. Obama is hosting another foreign leader - Japanese Prime Minister Taro Aso - on Tuesday.