Saab under creditors protection plans to cut ties with GM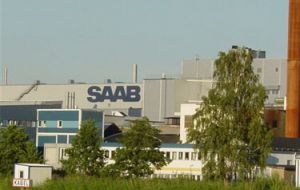 Swedish car maker Saab Automobile Friday was granted protection from its creditors so that it can be reorganized and said it will seek to separate from its owner, General Motors Corp.
"We are now recreating Saab Automobile as an independent unit" Saab CEO Jan-Ake Jonsson said in a statement after the Vanersborg District Court in South-western Sweden approved its request to begin the reorganization process. However Sweden's government maintained its arms-length approach, saying it doesn't plan any support for Saab, though it didn't rule out the possibility of guaranteeing loans that Saab has sought from the European Investment Bank. Saab said it hopes the court process over three months will transform it into a functioning company that is fully independent from its struggling Detroit- based owner. To accomplish this it will seek fresh funding from private and public sources, it said. The court appointed lawyer Guy Lofalk as administrator. Saab said the reorganization will be spearheaded by Lofalk, Jonsson, and Stephen Taylor, an international reorganization expert. Saab will present its reorganization plan to creditors within three weeks, it said. Saab last year sold fewer than 94.000 cars, down from about 125.000 vehicles in 2007. Its best-ever year was in 2006, when it sold 133.000 cars, making it a tiny player in the global auto industry. GM bought a 50% stake in 1990 and acquired the rest in 2000. GM, as part of its effort to secure more loans from the US government, had sought the equivalent of 572 million US dollars from the Swedish government. Sweden earlier this week rejected the request. GM bought a 50% stake in 1990 and acquired the rest in 2000. Saab in recent days has applied for a loan from the European Investment Bank. Sweden's other car maker, Volvo Cars, a unit of Ford Motor, at the end of January applied to the EIB, backed by Sweden, for 4 billion SEK. Sweden in Decembers presented a 28 billion Swedish Crowns aid package for its auto sector, most of which, 20 billion SEK, consists of guarantees of EIB loans.