Andean tunnel project to physically integrate Mercosur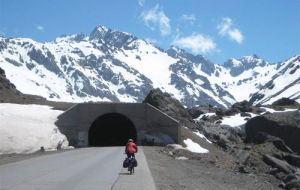 A Chilean and an Argentine company signed a partnership this week for the construction of a low altitude tunnel crossing the Andes to connect the neighboring countries, the crucial link for a bi-oceanic project dating back to 1994.
The companies involved, Empresas Navieras from Chile and Corporación América from Argentina, estimate the investment in the 23 kilometers long tunnel in the range of three billion US dollars and five to seven years to build.
The railway corridor linking Buenos Aires with Valaparaíso on the Pacific would have an estimated one hundred inter-modal stations and is one of the three options for bi-oceanic projects that were considered back in 1997.
The project has the full support from both countries and should be a significant step towards the integration of the Southern Cone, Mercosur and boost regional trade with the option of port facilities on two of the busiest oceans.
The memorandum of understanding was signed Monday in Santiago.
The low altitude tunnel (not higher than 2.500 meters) should ensure year round activity because currently the only land communication across the Andes is at the Cristo Redentor pass, which remains at least 45 days a year closed because of the heavy snowfalls during the austral winter extending from June to September.
The project will connect Mercosur associate member Chile directly with the rest of the full member countries and will help avoid the Panama Canal. Chile by rail could dispatch directly to Buenos Aires and Argentina to the Pacific basin through Valaparaiso.
Empresas Navieras belongs to the Chilean investments holding group Urenda while Corporación América is an Argentine group with interests in farming, infrastructure, finance and construction among other fields.
Chile's Public Works Minister Sergio Bitar said the project has the full support of both countries, which will be made public at the next Chilean-Argentine presidential summit.