Argentine/Brazil bilateral trade drops 40% in Jan-Feb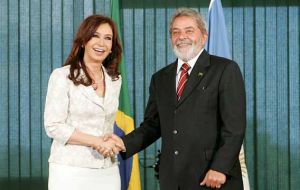 Bilateral trade between Argentina and Brazil continued to deteriorate during the first two months of the year, according to official statistics released in Brasilia. Ministry of Development, Industry and Foreign Trade said that exports to Argentina in January-February were down to 1.33 billion US dollars which represents 46.5% less than Jan-Feb. 2008.
Argentine exports to Brazil suffered a similar contraction reaching 1.27 billion US dollars, which is 41.1% less than the same period a year ago. Even when Brazil claims it is being exposed to an "invasion" of Argentine dairy produce, --Argentine milk exports increased 12% in the first two months--, the fall in trade with Argentina, the country's third partner behind United States and China, is a matter of concern for Planalto Palace, seat of the Executive. Sources from the Ministry of Foreign Trade, quoted by the official Brazilian news agency, claim that 10% of exports to Argentina have been affected by recent restrictive measures implemented by Buenos Aires as part of a policy to contain the impact of the world crisis. Those measures, described as "protectionist" by Brasilia, were recently addressed in a bilateral trade and political ministerial meeting when it was agreed to create of a task force to consider and report on the issue. At the end of March, Argentine president Cristina Fernandez de Kirchner is scheduled to visit Brazil and is expected to analyse the issue with her counterpart Lula da Silva. Both Argentina and Brazil consider their bilateral relation as "strategic" and top of the agenda. At the meeting both presidents are also expected to consider the impact of the global slowdown for Mercosur and particularly trade with junior members Uruguay and Paraguay that complain bitterly of "discrimination" from senior members, Argentina and Brazil. Uruguayan president Tabare Vazquez is scheduled to visit Brazil next week to talk about trade and the region's position in the coming G-20 summit in London where Latinamerica will be represented by Brazil, Mexico and Argentina. Brazil and Uruguay coincide that free trade, a quick approval of the WTO Doha round and combating protectionist tendencies and practices has become the international multilateral priority. Less than a month ago President Vazquez was on the phone with Lula da Silva to complain about an imports licence Brazil was to impose on its international trade, apparently with the purpose of slowing imports. Brazil apologized and suspended the initiative.