Exxon reports oil discovery off the Brazilian coast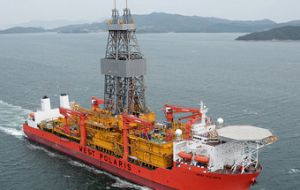 United States ExxonMobil has notified Brazilian regulatory agency Agencia Nacional de Petroleo, Gas Natural e Biocombustiveis (ANP) that it has found indications of hydrocarbons in block BM-S-22 off the Brazilian coast. The discovery was made in well 1-ESSO-3SPS.
This is the second discovery of hydrocarbons on the block that ExxonMobil has reported. The notification, required by Brazilian law, is dated February 17. The previous notification was on January 16. The notifications do not indicate that the find is commercial.
The pre-salt block is also known as Azulao. The potential discovery was made in 2,223 meters of water with ExxonMobil is using Seadrill drillship West Polaris to drill on the block.
ExxonMobil is the block operator with a 40% stake; Hess holds a 40% interest and Brazilian government managed oil and gas company Petrobras holds the remaining 20%.