Alleging "CIA conspiracy" Bolivia expels Obama administration diplomat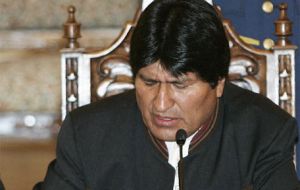 Bolivian president Evo Morales ordered a senior US diplomat to leave the country, accusing him of siding with opposition groups in a "conspiracy" against the government in La Paz.
Francisco Martinez, the second secretary of the US embassy in La Paz, is the second US diplomat to be expelled from the country in six months. Morales said on Monday that Martinez must be expelled "to put an end to a foreign conspiracy".
"Today, I've decided to declare Francisco Martinez ... who works for the United States embassy, persona non grata," he said at a news conference in La Paz.
Morales said that "deep investigations" had determined Martinez "was in permanent contact with opposition groups".
However the US State Department called the move "unwarranted and unjustified". "We reject the allegations" it added in a statement.
Last week, the Bolivian president publicly accused Martinez of "co-ordinating contacts" with a Bolivian police officer he accused of infiltrating the state oil company on behalf of the CIA.
Washington said that Morales's accusations of CIA infiltration in the country's affair were baseless and accused him of using the US as a scapegoat in domestic politics.
"We can't understand how the president can assure us that he wants better relations with the United States and at the same time continue to make false accusations'' according to Denise Urs, an embassy spokeswoman.
Last September, Morales expelled US ambassador Philip Goldberg after accusing him of conspiracy. The accusations came after riots broke out in the wealthy east of the country where opposition to President Morales's rule is based.
Several officials from the US drug enforcement administration have also been kicked out after being accused of espionage and of funding "criminal groups" seeking to undermine the government.
Bolivia, a close ally of Venezuela and Ecuador, had indicated earlier this month that there may be some rapprochement with President Barack Obama administration in Washington, but the latest moves are likely to further strain ties.