UK military honours for Argentine remain burial in Falklands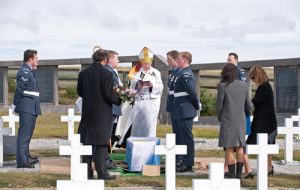 The remains of Argentine 1st Lt. Jorge Casco killed in 1982 while flying a Skyhawk fighter plane during the South Atlantic Islands conflict were buried at the Falkland Islands Darwin cemetery on Saturday 7 March 2009.
In line with previous protocol and in accordance with the Geneva Convention, the United Kingdom Military provided military honours during the burial, including a firing party, said a release from the Falklands Government House.
Members of 1st Lt Casco's close family, his wife Ivone Dentesano, mother Ofelia Carolina Codutti, and two children, Guillermo and Julieta were in attendance.
The remains of 1st Lt. Casco's were discovered by the UK military on South Jason Island with the wreckage of his Skyhawk A4-C aircraft. Apparently he was downed May 9, 1982 together with a second unit of his wing.
At the Argentine Government's request, the remains were returned to Argentina in July 2008 for DNA testing. Following confirmation that they belonged to 1st Lt. Casco, his family requested that his remains be buried at the cemetery at Darwin.
Partial remains of 1st Lt. Casco were buried at Darwin cemetery after they were discovered in 1982.According to the Falklands Government House 1st Lt. Casco's burial at the Argentine cemetery at Darwin involved close co-operation with the Falkland Islands and Argentine governments.
All arrangements were handled with the utmost respect for the needs and wishes of 1st Lt. Casco's family. The Casco family with the remains travelled to the Falklands on a private civil aircraft.
Elected Members of the Falkland Islands Legislative Assembly were fully consulted throughout.