Venezuela seizes land from Irish company; warns Coca Cola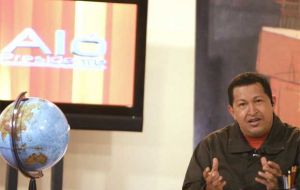 Ireland's Smurfit Kappa corporation confirmed Monday that the Venezuelan government had seized 1.500 hectares of land with eucalyptus the company owns in the country valued in half a million Euros.
In a statement from Dublin, the firm said that its management in Venezuela is in discussions with local authorities on the development. However Agriculture Minister Elias Jaua gave no assurances Venezuela would compensate the company, saying Smurfit would have to prove first that it was the real owner of the farm.
Earlier, a spokesman for the company was unable to say if the land had been seized as part of a renewed nationalisation drive of foreign-owned assets in Venezuela.
Local media reported the area seized was planted with eucalyptus which a government minister said benefited only Smurfit Kappa. Smurfit is one of the world's biggest paper and packaging producers and has around 30,000 hectares in Venezuela.
Since winning a referendum vote three weeks ago President Hugo Chavez has made agriculture and food his priority, renewing a drive to both nationalize assets and boost production via land reform.
Earlier this week, Chavez nationalized a rice mill owned by giant U.S. food company Cargill Inc and has sent troops to other rice mills in a drive to control supplies of the grain.
Chavez also announced he's prepared to clear trees to use the land for other food crops.
Chavez has generally sought to compensate foreign owners fairly for takeovers since he launched a massive nationalization drive in 2007 that has wrested oil, telecommunications, electricity and other companies from the private sector.
But with oil income plummeting, he has warned that he might carry on nationalizing without immediately compensating companies with cash for their seized assets.
Chavez said last week that the government had intervened in the El Pinal eucalyptus plantation because the water-hungry trees were drying out local rivers. He said the government would replant the farm.
In the past Chavez has taken over big farms deemed idle and given them to small farmers. The land reforms have sparked violence, with dozens of peasant farmers murdered in the last few years.
In related events the Mexican bottler of Coca Cola in Venezuela said the company is willing to relocate a distribution center and parking lot if an agreement can be reached with the government.
President Chavez ordered Coca-Cola FEMSA de Venezuela SA to turn the area in the country's capital over to the local community within two weeks. Apparently the land will be used for building a housing complex.
Coca-Cola issued a statement on Monday saying the company is evaluating the president's request. The bottler said it was optimistic that conversations with the government would "bring about proposals and alternatives that benefit everyone."
Chavez did not say what measures his government could take if the company spurns his request.