Uruguay attracts European investments in timber plantations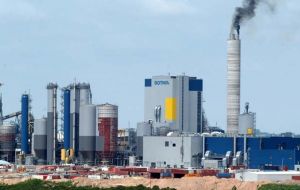 Favourable timber growing conditions, a good business climate and a stable political environment has attracted a number of European forest companies to invest in Uruguay the past few years, reports WRQ.
The establishment of fast-growing Eucalyptus and pine plantations could eventually support two or three new pulp-mills, according to WRQ a pulp and paper industry publication.
Uruguay is a new destination for investors in forest plantations and in forest products manufacturing. There is currently only one pulp-mill in the country but there are plans for at least three more if financing for the projects can be secured.
The Finnish company Botnia is the owner of the existing mill, which has an annual production capacity of about one million tons. Two-thirds of the wood supply is coming from the company's nearby Eucalyptus plantations, while local private
landowners supply the remaining pulpwood.
The Spanish paper company ENCE is planning a pulpmill southwest of Montevideo, designed to produce about one million tons of Eucalyptus pulp.
The company is currently in negotiation with a number of investors regarding the financing of the mill, but this process has slowed as the result of the financial crisis.
ENCE currently manages about 170,000 hectares of plantations in Southern Uruguay, which will be the main supply source for the plant.
Portucel Soporcel, a Portuguese paper company, has also announced interest in establishing a pulp and paper mill in Uruguay. In the fall of 2008 there was a
Memorandum of Understanding signed with the Government of Uruguay stating that an investment in a pulp mill with a capacity of 1.3 million tons should be explored. The site for this mill has not been announced but based on available plantation resources and competing pulp projects, it would be logical to locate the plant in the southeastern part of the country.
The third company that has plans for investing in a pulp-mill in Uruguay is the Swedish- Finnish pulp and paper company Stora Enso. The company has plantations in the central region of the country and could also source wood from its plantations on the other side of the border in Brazil. The company's goal is to manage 100,000 hectares of plantation to supply the planned mill (capacity one million ton per year).
The exact location has not been defined, but it will likely be somewhere in the centre of the country. The company currently has purchased about 70,000 ha, of which 14,000 ha have been planted with pine and Eucalyptus.
As long as the domestic demand for wood is limited, the exports of Eucalyptus wood chips will continue to flourish. In 2008, shipments more than doubled from the previous year, totalling an estimated 1.3 million tons.