"Peaceful and emotional" Falklands visit for Argentine marathon runners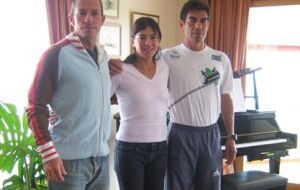 PEACEFUL and emotional is how five Argentine runners, including three 1982 war veterans, describe their visit to the Falkland Islands and their participation in the Standard Chartered Bank Stanley Marathon on Sunday.
Buenos Aires Architect Marcelo de Bernardis (42) who last year also competed in the Stanley Marathon, told Mercopress,"In 2006 I injured my Achilles tendon and during that nine months without running it was my dream to compete in the Falklands marathon."
Marcelo, who is also a sports writer, had completed three consecutive Boston Marathons (the first Argentine in 112 years to do so), and decided he would be very proud to be the first Argentine to compete in a Falklands marathon.
In 2008 the trip was made all the more worthwhile when he took third place behind an Islander and a member of the British Forces stationed in the Islands.
Training for the 2009 marathon, however, "…had a whole different perspective," when he teamed up with his partner Andrea Karina Mastrovincenzo (35) and two Falklands war veterans including super fit Marcelo Vallejo, who picked up an impressive fourth place behind his friend Marcelo De Bernadis.
De Bernardis said, "It was a wonderful experience being able to support our friends and see their emotion and happiness when they finished."
He said Vallejo was particularly touched when a group of British forces cheered and clapped him on during the latter stages of the race.
De Bernardis added, "I met so many beautiful people here and made many good friends. We all feel comfortable here in the Islands, and the spectators who knew who we were, were all extremely supportive. The time in the Falklands has been a peaceful and helpful experience for the war veterans in the group."
Andrea, who works as a secretary in Buenos Aires, unfortunately suffered a muscle injury during the race but bravely continued, "I was determined to finish it and it felt so good to have everyone clapping and cheering as I past.
"We have been treated with a great deal of respect during our visit and in return we very much respect the people of the Islands."
Andrea took first place in the women's category of the race.
By Lisa Johnson - SeAledPR - Stanley