New natural gas discovery in Tierra del Fuego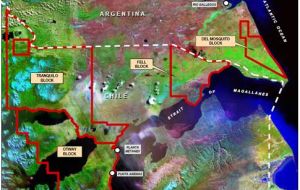 Latinamerican oil and gas explorer GeoPark Holdings Ltd (GPK.L) announced this week that tests at its newly drilled gas well in southern Chile were "successful" and that it planned to drill seven to nine new wells in 2009.
The targeted hook-up of the new gas well, Monte Aymond 33 on the Fell Block, is in April, the company, which owns and operates the Fell Block, said in a statement.
GeoPark said its geo-science team had identified additional drilling opportunities in the up-dip area of the field, which will be further developed in its drilling.
The Monte Aymond 33 well was drilled to a total depth of 2,391 metres.
A production test in the Springhill formation, at approximately 2,273 metres in a 13 metre perforated interval, flowed at a rate of approximately 3.12 million cubic feet per day of gas and 22.6 barrels per day of condensate and 33.9 bpd of water, through a choke of 12 millimetres and with a well head pressure of 654 pounds per square inch.
"We are most satisfied with the results from the Monte Aymond well which is but a prolongation of our chain of successes in the discovery and development of hydrocarbons in Chile", said Gerald E. O'Shaughnessy, GeoPark CEO.
Geopark said it is possible to extract oil and natural gas from twelve of the thirteen wells drilled in the Fell Block. The company is looking forward to begin operations in the Tranquilo y Otway Blocks.
The Chilean government has awarded licences to several private companies, --and the government owned ENAP--, to explore and produce hydrocarbons in the extreme south of Chile, Magallanes Region and Tierra del Fuego.
Highly dependent on Argentine natural gas for heating and manufacturing Chile has been suffering from severe shortages particularly in winter since the Kirchner administrations have a policy of privileging domestic demand over exports in spite of contracts.
To counter the energy deficit Chile has appealed to several options, one of them developing resources in Tierra del Fuego and Magallanes where the Chilean oil and gas industry originally took off more than half a century ago.
Besides Punta Arenas hosts Methanex from Canada, one of the worlds' leading manufacturers of methanol which has been forced to cut jobs and production because of insufficient Argentina natural gas supply.
All new supplies of gas in the area are immediately hooked on to help supply Methanex.