Charles and climate change: people realize I wasn't "talking nonsense"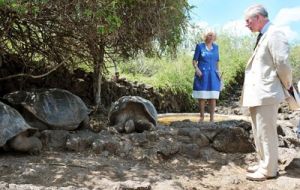 Prince Charles who has been visiting the Amazon and the Galapagos islands said in a interview published on Sunday people now realised he had not been "talking nonsense" during his many years of campaigning for action on environmental issues.
Charles, 60, whose warnings of the danger of climate change have sometimes brought scathing comments from critics, said even sceptics were beginning to take his views seriously.
"If now people are beginning to realise perhaps, after all, I wasn't talking complete nonsense, then I am delighted" he told the Sunday Telegraph during a visit to Ecuador's Galapagos Islands last week.
"All I have been trying to do is remind people that we have to live and work in harmony with nature if we are to have any chance of surviving on this planet."
Charles, once ridiculed by some in the press for being a man who talked to plants, said his high-profile role had given him a platform to influence public opinion on issues such as the environment.
During his visit to South America to promote energy efficiency, he said time was running out to save the world from the ravages of climate change, and prevent economic meltdown and a flood of environmental refugees.
The Prince described his visit to Galapagos as a "great treat", which provide a unique haven for rare flora and fauna. "I'd heard quite a lot about the islands from my father, which I suppose was more than 40 years ago. And in those days it must have been remarkable because there was hardly anyone on the islands. He arrived by sea, which is probably the best way to see it."
Asked if he had been frustrated by people's failure to listen to his long-held views about global warming, he told the newspaper: "It is rather depressing.
"I am not doing this for myself but, as I keep saying, for everyone's children and our grandchildren."