US to announce Monday plan for purchase of banks' toxic assets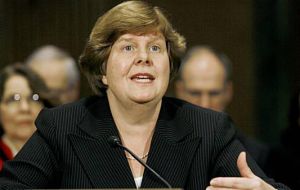 A key adviser within US President Barack Obama's administration says she is "incredibly confident" the US economy will recover within 12 months. Christina Romer, head of the White House's economic advice council, told Fox TV "we will be seeing signs the economy is turning around".
She also told CNN that the US recession would "bottom out" in 2009, predicting economic growth later this in the year. She spoke ahead of a new bank rescue plan due to be unveiled on Monday.
Reports say Treasury Secretary Timothy Geithner - who received public backing from Mr Obama in a TV interview this weekend - will move to purchase so-called toxic assets from troubled banks in an effort to kick-start investment.
Later in the week Mr Geithner will elaborate on proposals for financial regulatory reform at a congressional hearing.
The economic announcements are a run-in to the G20 meeting in London in early April, which President Obama has highlighted as an opportunity for developed nations to take concerted action to spur global economic growth.
At home the new plans to remove toxic debt from the balance sheets of US banks could see up to one trillion US dollars bought out by a combination of the US government bail-out and other federal institutions.
The plans, originally outlined without much detail by Mr Geithner back in February, are being seen as a crucial step on the road to restoring confidence within the troubled banking sector.
Speaking on CNN, Ms Romer said she had "every expectation, as do private forecasters that we will bottom out this year and actually be growing again by the end of the year".
Meanwhile, the budget committees of the Senate and House of Representatives will start drawing up their budget bills this week.
The president has drawn up a 3.5 trillion USD budget proposal for 2010, aimed at pulling the US out of financial crisis.
"It's an economic blueprint for our future, a vision of America where growth is not based on real-estate bubbles or over-leveraged banks, but on a firm foundation of investments in energy, education and healthcare that will lead to a real and lasting prosperity," President Obama said in his weekly radio address on Saturday.