Argentina admits dengue epidemics in northern provinces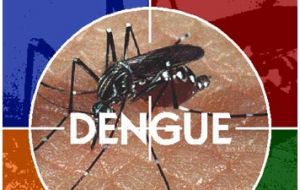 Argentina officially admitted that the mosquito transmitted dengue disease which has ravaged neighbouring Bolivia and Paraguay has epidemic characteristics in several Northern provinces with 2.270 cases reported and confirmed.
"Outbreak or epidemics is the same, it's an increase of confirmed cases over what is normal", said Argentina's National Director of Disease Prevention and Risks Department Hugo Fernandez.
He added that the outbreak is as serious as that of 2004 and the main cause this time is "imported" from neighbouring Bolivia with 50.000 notified cases and 3.000 in Paraguay.
The four provinces most affected by the Aedes Aegyptis mosquito are Chaco, Salta, Catamarca and Jujuy very poor areas to the north of Argentina which have recently suffered the consequences of flooding and mudslides because of the intense tropical summer rainfall.
One of the towns most seriously hit by dengue has been Charata, in Chaco where neighbours took to the streets to complain that the fumigation of homes and areas potentially breeding pools for larvae had been done with expired chemicals.
"Cases crop up every day; we have 3.000 under surveillance and 300 confirmed in a population of 60.000", said Charata mayor Miguel Tejedor.
Chaco government province on Wednesday admitted that "we have an epidemics outbreak" with 820 confirmed cases of dengue and no haemorrhagic variants. Until last week Chaco officials only acknowledged "less than ten cases"
Mayor Tejedor believes the number is closer to 6.000 because "99% of people with the symptoms, the tests prove that they have been infected. But the government wants to cover up the information".
Chaco's Health minister was forced to remain in Government House for several hours Wednesday evening because angry neighbours had surrounded the building demanding solutions.
"Hospital staff has been given instructions not to comment on numbers of cases", said Tejedor who added that according to his sources 300 people per day are treated with the symptoms, while a sanitary tent from the federal Health ministry receives between 150 and 200 people daily.
In Salta province 986 cases have been confirmed including two deaths from haemorrhagic dengue, but numbers are not so shocking since local authorities have admitted the situation from the very beginning. Traffic with neighbouring Bolivia is intense and it's more difficult to try and hide the situation.
Catamarca has 47 confirmed cases and 80 people turn up every day for dengue tests. In Jujuy the number so far is 217 cases and in the rest of Argentina, another 200 including 9 in Rosario, the country's second city, but they have been described as "imported".
Dengue causes head aches, abdominal pains, vomiting, diarrhoea with a general loss of spirit and appetite. The hemorrhagic variant causes intense bleeding and can cause death if not treated on time.