South Atlantic sunken gold mystery to be solved by salvage operation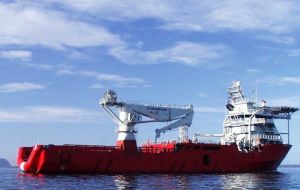 An Argentine federal judge authorized last week the rescue of 9.5 tons of gold and silver which were lost when a Chilean vessel "Polar Mist" sank in Argentine waters in mysterious conditions after having been abandoned by its crew.
Magistrate Ana Cecilia Alvarez gave the green light for the rescue operation which is scheduled to being in April. The whole salvage display is estimated to have a cost of 2 million US dollars but the sunken precious metals are worth from 18 to 22 million US dollars according to estimates from the two mining companies involved.
"Skandi Patagonia", a support vessel for French oil corporation Total rigs in the South Atlantic close to the Magellan strait has been contracted for the task.
"Polar Mist" a converted Chilean flagged trawler went down in still unexplained circumstances 40 kilometres off the coast of Patagonia province Santa Cruz last January 18 when she was sailing to Punta Arenas and turned back because of a storm at the mouth of the Magellan strait.
Solicitor Gustavo Giugale, quoted in the Chilean press as representing Lloyds said the rescue company is Ince & Co from the UK, although with help from other operators.
The "Polar Mist" is believed to be in 75 metres deep waters and in its hull are the 9.5 tons of non refined metals, 95% gold and 5% silver.
Apparently 6.9 tons belong to Cerro Vanguardia, South Africa's Anglo Gold and Argentine Formicruz, while the rest to Canada's Pan American Silver.
The story is that on January 16 while sailing for Chile "Polar Mist" was surprised by a storm with "ten metres tall waves" and an emergency rescue message was sent out which was responded by the Argentine Coast Guard.
A helicopter from that service rescued the eight crew members and flew them to Rio Gallegos. The vessel was thus abandoned because it was ready "to go down".
However two days later the Argentine Coast Guard intercepts a Chilean vessel towing the "Polar Mist" towards Punta Arenas.
They were ordered to return to Rio Gallegos but never made it with the "Polar Mist" because she was lost on the night of January 18 as she approached the Argentine port.
The two mining companies have for several years been sending the precious load by sea to Punta Arenas and from there by air to Santiago and later Europe. This was the first time they suffered a setback in shipping the metal.