Uruguay modifies bidding terms for offshore oil exploration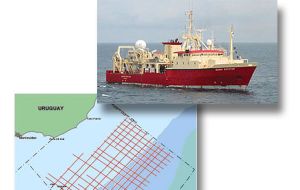 The Uruguayan government has modified the bidding terms for offshore oil and gas exploration and exploitation, given the dramatic fall in oil prices and the deepening global economic crisis.
The move recognizes budget issues faced by international oil and gas companies, according to government officials. Changes in the global financial and business markets have been monitored by ANCAP, the government oil company acting as adviser in the leasing process, and as a result, recommended modifications to the process will be made for the 2009 Uruguay leasing round.
The proposed changes remove the mandatory requirement for drilling an exploration well during the basic exploratory period for A-classified blocks. However, the government encourages companies to include exploration wells in its exploration program offers when appropriate.
Contract guarantee percentages for the first exploration periods have also been modified, and now both A-classified blocks and B-classified blocks have the same guarantee and minimum exploration program requirements.
Uruguayan officials believe modifications of the license terms give the country some of the best conditions for investment in oil exploration and exploitation.
The text of the decree implementing the changes can be accessed at Ministerio de Industria, Energia y Minería