Brazilian agriculture, world's top consumers of pesticides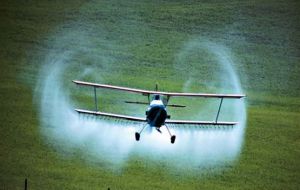 Brazil became in 2008 the world's top consumer of agriculture pesticides (ahead of the US), and continues to use a range of dangerous pesticides banned in other countries, according to a study released Friday.
The Brazilian pesticide market has boiled to more than 6.9 billion US dollars, according to the Brazilian Chemical Industry Association.
In the analysis from ANVISA (Brazil's National Health Surveillance Agency), officials examining 1,773 samples of 17 fruits and vegetables found that pesticide was most prevalent in sweet peppers, followed by grapes, strawberries, then carrots.
Acccording to the Anvisa report released to the press, 64% of sweet peppers contained chemical residue above the limit allowed by Anvisa. In total, 15% of the fruit and vegetable samples investigated by Anvisa exceeded the allowed limits. Some of the pesticides detected can be related to cancer and alterations to the hormone system.
The Anivsa study also showed that pesticides banned in some countries -- such as acephate and endosulfan – and which expose personnel who manipulate fruit and vegetables, continue to be used in Brazil, which has 276 million hectares of farm land.
In 2008, when China banned a pesticide used in tomatoes, metamidophos, Brazil imported some 4200 tons. During the first two months of 2009, 4400 tonnes of the chemical have entered Brazil.
According to the report Anvisa is currently considering banning thirteen different pesticides of common use in Brazilian farming.
Anvisa also reported that in the first quarter of 2009, some 170 tons of counterfeited medicines were retained by the agency. However what is more worrisome, most of the pharmacies where the fake medicines were discovered allegedly belong to an organized elaboration and sales organization. Last year only 20 tons of counterfeited medicines were seized.