Paraguay's cattle numbers increase 38% in 17 years; exports six fold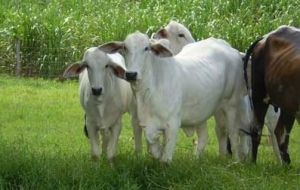 Paraguay's cattle rodeo increased 38.5% in the last 17 years according to the latest agriculture census. Even when the number of farms dropped 16.5% between 1991 and 2008, the number of head of cattle jumped from 7.626.617 to 10.561.894
The census shows that following three decades of virtual stagnation, cattle breeding picked up in the last few years with increases averaging 500.000 head annually. Similarly the number of farms with more than 1.000 head of cattle has seen their share balloon from 3.767.593 head of cattle in 1991 to 6.050.678 in 2008 which represents 60.6% jump. Small farms with less than 50 cattle in the same period dropped dramatically.
As to geography eastern Paraguay has 6.690.000 head and 184.204 farms while the west of the country concentrates 3.871.892 head of cattle in 7.485 farms.
Beef production in Paraguay has experienced a strong boost in the last four years having reached a record of 155.469 tons exported in 2008, equivalent to 596 million US dollars. However when all meat sub-products are taken into account the value increased to 735 million US dollars compared to a meagre 95 million US dollars in 1999.