Smallest wheat crop since 1910 forecasted for Argentina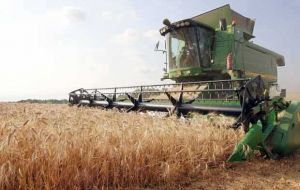 Argentina is forecasted to plant the smallest wheat crop on record because of drought and export restrictions, according to the Buenos Aires Cereals Exchange. Planting will fall as low as 3.7 million hectares this fall that would be the smallest since the Exchange began recording such data in 1910.
"If we continue to get dry weather and the government continues with its policies of not offering any concessions to farmers then we could fall as low as 3 million hectares," said Pablo Adreani analyst at Agripac Consultores.
The Exchange also lowered on Wednesday its soybean harvest estimate to 34 million metric tons, down from a previous 36.2 million tons, on smaller yields in Buenos Aires province. Argentina is the world's third-largest soybean grower behind the US and Brazil.
Farmers harvested 8.3 million metric tons of wheat earlier this year, less than half the prior year, after the worst drought in half a century, according to the Agriculture Secretariat. This year's planted area will be 18.6% less than a year ago, said the Exchange.
Adreani forecasts this year's soybean harvest will fall to 32 million metric tons because of drought damage.
Farmers are cutting costs because of a year-long drought, a lack of capital and government policies that restrict exports, Adreani said.
The government taxes wheat at 28% and restricts exports to provide sufficient supplies to the domestic milling industry, the Rosario Board of Trade has said.
Farmers are finding it "impossible" to receive export permits because of a lack of available domestic produce, the Rosario exchange said in its weekly report published April 22. Most of Argentina's soybeans trade at the exchange in Rosario.
The cereals Exchange forecast three more months of dry weather in its weekly weather report released Wednesday. Soil erosion is occurring in southern Buenos Aires and La Pampas provinces, causing an "ecological disaster," the Exchange said.
The cereals Exchange left its forecast for this year's corn harvest unchanged at 13 million tons. Argentina was the world's second-largest corn exporter last year behind the US, according to the US Department of Agriculture.