Chavez agrees to pay 1.97 billion USD for nationalized steelmaker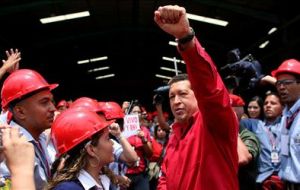 Ternium, Latin America's second- largest steelmaker, agreed to sell its Sidor unit to the Venezuelan government for 1.97 billion US dollars, ending a yearlong price dispute. The government holding company, Corp. Venezolana de Guayana, or CVG, paid 400 million in cash today for Ternium's 59.7% stake in Sidor, the Luxembourg-based company said Thursday in a statement. CVG said it will pay the rest in two separate payments.
Venezuelan President Hugo Chavez announced the steel mill's nationalization in April 2008 to help boost control over the economy amid record oil prices. Ternium reportedly sought 4 billion for its Sidor stake, according to Argentine press reports. Chavez offered 800 million after seizing the company.
Beginning in 2006, President Chavez forced foreign oil companies into joint ventures as minority partners and nationalized the cement industry. He also is negotiating the purchase of a unit of Spain's Banco de Santander SA in his bid to increase control of the economy.
Ternium bought Sidor, the South American country's sole maker of flat-steel products, for 1.79 billion in 1997. Since the privatization, the company boosted output, investment and exports while labor strikes and government threats became increasingly common during the past three years.
In 2007, Chavez threatened to take over Sidor because he said the company refused to supply the local market and operated as a monopoly. Ternium initially dodged nationalization by promising to sell more discounted steel in Venezuela.
On April 9, 2008, after months of work stoppages to protest contract talks for Sidor's 4.000 unionized workers, Chavez ordered the company be nationalized when negotiations stalled. The Venezuelan government accused the company of "slave- like" conditions for its workers and of owing as much as 700 million dollars in taxes.
Chavez softened his stance on Ternium in the second half of 2008. He said he expected a "friendly agreement," and that he hoped the company, run by Paolo Rocca, would continue to work in Venezuela. Chavez met with Argentine President Cristina Fernandez in late June to discuss compensation negotiations.
In 2007, Ternium said it produced 4.3 million metric tons of crude steel and sales totalled 2.4 billion USD. Domestic sales rose 11% to 2.5 million metric tons of crude steel from the previous year.