Per capita meat consumption in Chile increases 26% in ten years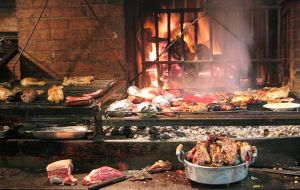 Chileans consumed 81.3 kilos of meat per capita in 2008, 26% more meat than they did 10 years ago, according to a study recently published by the country's Office of Studies and Agrarian Policy (ODEPA) of the Ministry of Agriculture.
This figure compares to the average meat consumption in developing countries of 82.9 kilos per capita.
Pork was the most consumed meat in Chile in 2008, with consumption growing by 58.87% since 1998. Poultry consumption went up by 33.92% in this same period, while beef consumption dropped by 2.95%.
Agriculture Minister Marigen Hornkohl said there were various reasons for increased meat consumption, including increased purchasing power in the general public and government initiatives in nutrition.
"This is a positive step in quality of life," said Hornkohl, "there is an improvement in the diets of the Chilean population which is apparent in the low rate of infant under nourishment and mortality."
The fall in beef consumption could be a result of its high price, said Alejandro Granzotto, the president of Fedecarne. "Beef is always more expensive than other meats in Chile and throughout the world," he said. "If the price dropped, then there would be higher consumption."
The figures show that pork production grew by 114% over a ten-year period. Last year 522,423 tons of pork was produced in Chile, 64.4% destined for national markets. Poultry production also rose significantly, with 503,906 tons of chicken and 101,909 of duck produced in 2008 - 83 percent consumed in Chile.
Hornkohl also emphasized efforts made to increase Chilean meat exports. "There are specific policies that we are developing, including a cattle production plan for the entire country, a program to support small producers and genetic research," she said. "We are looking into the possibilities of genetic improvement and artificial insemination". Santiago Times