Obama sends a letter to Cristina for the May 25th celebration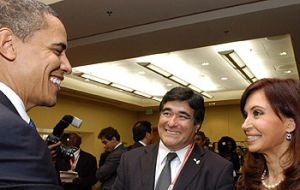 United States president Barack Obama has sent a letter to President Cristina Fernandez praising Argentina's efforts "to work as a constructive and stabilizing force in the region and beyond".
The text of the short letter was released by the Argentine news agency Telam Thursday and in it Obama, in the name of the United States people expresses his most sincere congratulations to Argentina for the coming commemoration of May 25th.
The letter was delivered early Thursday by the United States embassy to the Argentine Foreign Affairs ministry and underlines that as democracies, dedicated to the defence of human rights and fundamental liberties, "we have the shared responsibility of promoting these values in the hemisphere and the world"
"I much value the efforts of Argentina to work as a constructive and stabilizing force in the region and beyond. Besides the cooperation we have in these fields I expect to work together both bilaterally and regionally in new initiatives relative to justice and social inclusion".
This is the third contact between President Cristina Kirchner and Obama. Last November 18 the president-elect was on the phone calling Mrs Kirchner at the time on an African tour. The dialogue was described as having "very good chemistry" according to Argentine diplomatic sources. Obama said he was longing to visit Buenos Aires and also expressed his great admiration for Argentine literature and authors such as Julio Cortazar and Jorge luis Borges.
The second time was a letter last February in which Obama thanks Mrs. Kirchner for her message on his taking office and concludes saying "it will be a pleasure to work together in ensuring a safer world in the next four years and in promoting the good relations between our countries".
In Government House President Cristina Kirchner said that the latest letter "says quite a few more things that the formal congratulations for the 1999 anniversary of the creation of our nation".
"From Bush I don't recall having received nothing at all or maybe he didn't' have it in his agenda. We didn't receive these messages from previous administrations", added the Argentine president who described it as a significant "gesture".
"The same as the recent nomination of the first woman as US ambassador in Argentina and a lady, may I say, with an impressive background in the struggle for human rights and equal rights, A very promising reading", concluded Mrs. Kirchner.
So far the presidents of neighbouring Mexico, Felipe Calderon and Brazil's Lula da Silva have had private meetings with Obama. The next in the list is Chile's Michelle Bachelet who is expected in Washington on June 23rd.